Tea Lights
Regular tea lights are cheap, made in a factory overseas using paraffin, last for a couple of hours and often don't burn at all!
Wouldn't you rather use hand-poured soy tea lights, made in NZ in a range of fragrances, with a burn time of up to 7 hours?
Containers are re-useable clear polycarbonate and the wicks are pure cotton.
20 tea lights are presented in an attractive white organza bag.
You can choose from unscented in 'natural' colour, French Pear in lime green, Lavender Fields in purple, Rose Garden in pink, Gourmet Vanilla in yellow or Champagne & Strawberries in red.
Or if you can't decide which of the exquisite fragrances to choose, order an assorted bag with 4 of each of the 5 fragrances.
For orders of 50+ you may choose from any of the available fragrances in natural colour
Discounts available on orders of 50 or more of a single fragrance or unscented. Please contact me for a quote.
T001 French Pear Tea Lights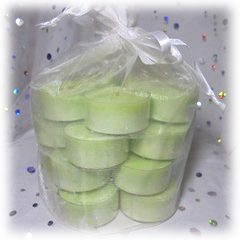 $20
T002 Rose Garden Tea Lights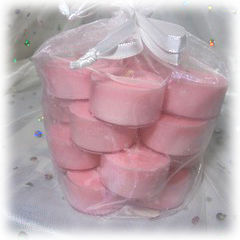 $20
T003 Gourmet Vanilla Tea Lights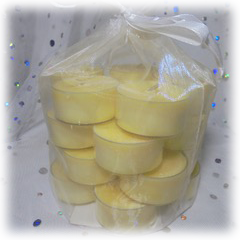 $20
T004 Lavender Tea Lights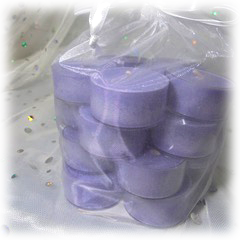 $20
T005 Assorted Tea Lights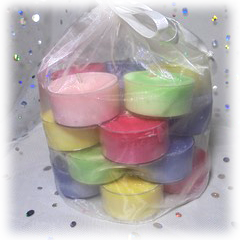 $20
T006 Unscented Tea Lights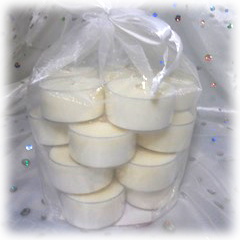 $20
T007 Champagne & Strawberries Tea Lights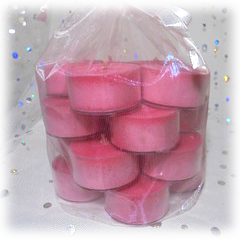 $20